Korean cuisine has evolved through centuries of social and political change. Originating from ancient agricultural and nomadic traditions in the Korean peninsula and southern Manchuria, Korean cuisine has evolved through a complex interaction of the natural environment and different cultural trends.
Korean cuisine is largely based on rice, vegetables, and meats. Traditional Korean meals are noted for the number of side dishes (반찬; banchan) that accompany steam-cooked short-grain rice. Kimchi is almost always served at every meal. Commonly used ingredients include sesame oil, doenjang (fermented bean paste), soy sauce, salt, garlic, ginger, pepper flakes, gochujang (fermented red chili paste) and cabbage.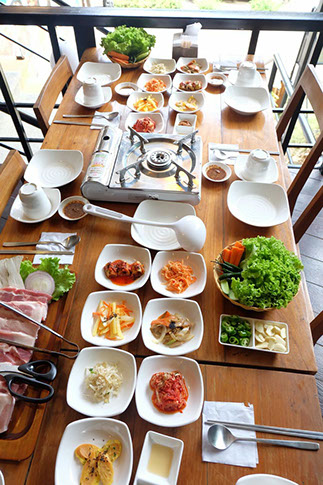 The term Korean barbecue or Gogigui (meat roast) in Korean refers to the "Korean" method of roasting beef, pork, and chicken, or other types of meat. Such dishes are often prepared at the diner's table on gas or charcoal grills that are built into the table itself. Some Korean restaurants that do not have built-in grills provide portable stoves for diners to use at their tables.
The most representative form of gogigui is bulgogi usually made from thinly sliced marinated beef sirloin or tenderloin. Another popular form of it is galbi made from marinated beef short ribs. However, gogigui also includes many other kinds of marinated and unmarinated meat dishes, and can be divided into several categories. Korean barbecue is not only popular among Koreans, but also has gained popularity worldwide.